New Patients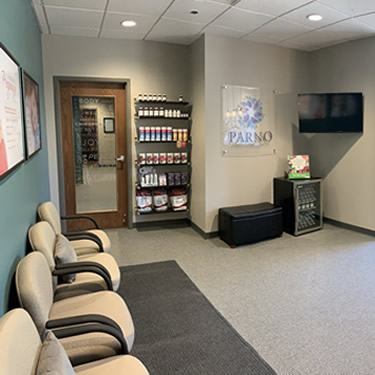 Make Yourself At Home
Since we started our practice in 2010, we've always made it a priority to maintain a welcoming space that feels peaceful and inviting as soon as you walk in the door. Because most of our patients find us via referral, it's helped us sustain a genuinely family-oriented environment.
Being kid-friendly is in our DNA – every chiropractic room in our facility has a box of toys to occupy and entertain your little ones.
Making An Appointment
From beginning to end, we've created a convenient patient check in + check out process that starts even before you walk through our doors. From online appointment scheduling and bill pay options to email and text reminders, it's never been easier to incorporate chiropractic care into your busy schedule.
First visits generally last about 45 minutes and include a full consultation and initial treatment. Patients are advised to bring a form of ID, insurance cards and appropriate intake forms. If you are not able to bring completed intake paperwork with you to your first appointment, please arrive at least 15 minutes prior to your scheduled time to complete the necessary paperwork.
At Parno Family Chiropractic,  we value full transparency and patient education—so depending on what we're explaining and how the discussion goes, it might take a bit longer! We love it when patients ask questions and take ownership of their own health journey—we're right there with you. We also include handouts and brochures to supplement as needed so you can reference them when you get home.
Follow-up visits tend to be shorter—up to 10 minutes. Depending on your health goals, we'll design a treatment plan that's right for you.
Treatment plans are always created with the patient's goals in mind—we understand life is busy and we strive to make your treatment as easy as possible.
We accept most insurance types to assist payment as much as possible. Dr. Parno is in-network with a number of insurance companies and will also work with your insurance company if we are out-of-network. Whether you have insurance or not, Parno Family Chiropractic accepts cash, personal checks, all major credit cards and HSA/Flex Spending funds. We are providers for patients in auto accidents as well. We offer discounted cash options (time of service discount) as well as discounted pre-pay package options. We do not accept and/or participate with Medicaid or Medicare.
Discover How We Can Help
Ready to learn more about how we can help? Contact us today to make your first appointment. We look forward to welcoming you to our practice.
CONTACT US »

New Patients | (651) 788-9019