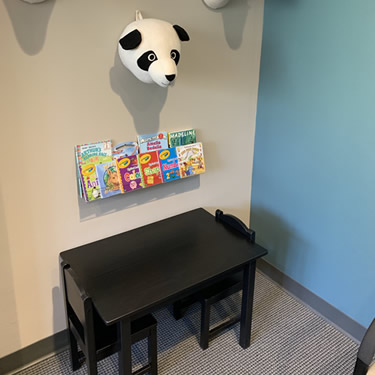 Pediatric Chiropractic Care at Parno Family Chiropractic
Monitoring spinal alignment at an early age is an important way kids can maintain optimal health. Our practice welcomes all children (even ones just a few days old) and believes that tracking little ones at important milestones as they grow is a great way to make sure their bodies reach their fullest potential.
Chiropractic may help kids with ear infections, reflux, sleeping issues, digestive issues, torticollis, delayed milestones, irritability/mood swings, bed wetting, ADD/ADHD, asymmetric crawling/gait and much more! We've also seen and helped particularly active children who have been suffering from poor posture or dealing with chronic pain and injuries.
Catching these symptoms early on helps us start a kid-friendly treatment plan that targets these issues with safe, non-invasive and gently administered adjustments.
Post-Birth Chiropractic Treatment
It's easy to forget that the birth process is stressful on babies, too. Checking a baby's spinal alignment early on can help us detect and correct anything that may be off or misaligned right after birth. For peace of mind, we find many new parents entrust us with their newborns to make sure everything's optimal post birth.
The techniques we use on newborns are incredibly gentle and completely safe—many babies stay asleep throughout the entire exam and adjustment.
Pediatric Chiropractic Visits
During the first visit, we sit down with parents and go over a comprehensive overview of their child's medical history, including birth process and how it was experienced by both the mother and the child. We do a thorough intake and monitor active symptoms; then, based on the entire consultation, we come up with a treatment plan right away. Typically we do adjustments during the first visit if the patient is comfortable with it.
We use a variety of kid-friendly techniques. All treatment plans are fully tailored to the kid and his or her unique, specific needs and comfort levels.
CONTACT US »
We Understand How To Treat Kids
At Parno Family Chiropractic, we spend lots of time meeting kids exactly where they are. If they're nervous, we make sure they feel heard and understood. Sometimes that means we sit on the floor with them and have a kid-friendly conversation. Other times, we "practice" adjustments on stuffed animals to prep little ones for their own adjustment. We know how scary a new experience can be for kids and spend a lot of time translating what we'll be doing in language and activities kids can digest and understand.
Some things we've found helpful for new kid patients:
Parent & Child Same-Day Adjustments: We've found that when kids watch their parent get adjusted, it helps ease their nerves. We're happy to schedule both on the same day to help ease your child in.
BYO Stuffed Animal: We encourage kids to bring their own toy or stuffed animal to help them feel comfortable for their visit —our priority is making sure children feel at ease at all times.
And our golden rule is always this: if the patient is uncomfortable, that's a hard stop. We value patient comfort at all times and kids are no different. We're always happy to accommodate all kids, at all ages, nerves and all.

Pediatric Chiropractor Woodbury, Cottage Grove, Maplewood, Oakdale MN
(651) 788-9019